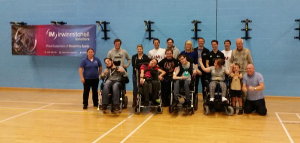 Boccia is a target ball sport similar in principle to bowls but is played indoors with soft leather balls. It is a sport of intriguing tactics, incredible skill and nail biting tension. The sport is contested at local, national and international levels, by athletes with more severe physical disabilities. It was originally designed to be played by people with cerebral palsy but now includes athletes with other severe disabilities affecting motor skills. In 1984 it became a Paralympic sport, and in 2008 was being practiced in over fifty countries worldwide. Boccia is governed by the Boccia International Sports Federation, (BISFed) and is one of only three Paralympic sports that have no counterpart in the Olympic program.
The Leeds Boccia club allows all people regardless of their disabilities to be involved in sport, working as a team and competing against others. "Some of our members have never had such an opportunity" says Rebecca Pearey, one of Irwin Mitchells trained volunteers.  "It is great to see our Boccia Member's families, support workers and friends all taking part and enjoying the game, whether that be by assisting with the ramps or offering encouragement from the side lines. Everyone has fun at The Leeds Boccia Club."
Boccia improves members' communication skills with each other, their support workers and their families as they are encouraged to talk tactics, guide the rampers and discuss the sport. As well as being immensely fun, Boccia has many therapeutic benefits.
Rebecca Pearey goes on to say "Setting up Irwin Mitchell's Leeds Boccia Club has been incredibly rewarding.  We get to see players of varying abilities and disabilities excited to compete against each other every week. They are keen to practice outside of the weekly sessions, involving their families, support workers and friends. We have received so much positive feedback from our members, their families and their support workers commenting upon the benefits that our Leeds Boccia Club has brought to them."
We are looking forward to seeing how Team GB get on in Rio. Having won 2 medals in London the team will be looking to improve their medal tally. The Boccia tournament begins on September 10th and we will be eagerly watching to see how well they do.
All of our Snaps families are welcome to attend the Wednesday sessions. There is no need to be an expert as the volunteers will show you everything you need to know. Come along and have fun.