Huge thanks to everyone involved in this morning's opening of SNAPS at Broomfield. The day was a resounding success, well attended by children and families who all had a fantastic time.
We welcomed MP Hilary Benn and his wife Sally. The leader of the Council, Judith Blake and councillor Kim Groves who were not only impressed by what was being achieved by SNAPS but by the response from the children and the families in attendance. Hilary spent over an hour with us chatting to volunteers, staff and families and was especially interested in rebound therapy and the benefits to our children. He reserved special praise for the parents who originally started SNAPS, saying that it was always astounding to see what could be achieved when families pull together and work hard to get something like SNAPS off the ground. Councillor Judith Blake was pleased and also proud that we had opened in the area as Broomfield is within her ward. She waxed lyrical about how beneficial it was for the families of her ward and surrounding areas.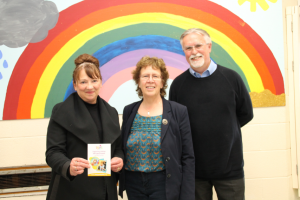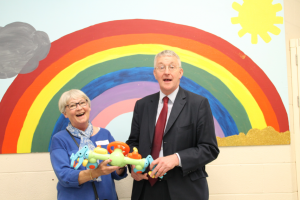 For the vast majority of the children, this was their first experience of SNAPS and they thoroughly enjoyed all the facilities on offer. The sensory room was a hit with lots of interactive fun. Susie Sparkles had the children eating out of her hand as she helped the children to craft masks and necklaces and finishing off with a sing-along.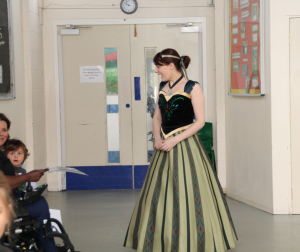 Some children had their first experience of rebound therapy. Dawn and the team in the rebound room did an amazing job welcoming the kids and introducing them to the trampoline. To quote Chris "To say that we were off to a good start would be a tremendous understatement".
Special thanks go to Emma and the Broomfield team for ensuring the day went smoothly and incident-free and for all the planning and organising which went into the day.
We look forward to doing it all again on the 10th June