Interested in taking on a challenge for SNAPS? Take your pick from our upcoming events and contact jenny@snapsyorkshire.org to find out more.
London Marathon 2020
Date: 26th  April  2020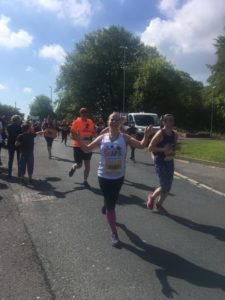 Minimum fundraising target: £2000
For the first time ever, SNAPS has secured a place in the London Marathon!
We are now seeking one fantastic fundraiser to take on this epic challenge for us! We are looking for someone who is dedicated, enthusiastic and full of fantastic ideas to raise as much as possible for SNAPS.
The deadline for applications is Sunday 27th October. You will be informed of the outcome by Friday 1st November.
To apply for our London Marathon place, click the button below. If you would prefer to receive a Word doc or paper copy of the form, please contact jenny@snapsyorkshire.org or 07534 972 384.
SNAPS Superhero Zoom
Date: Sunday 21st June 2020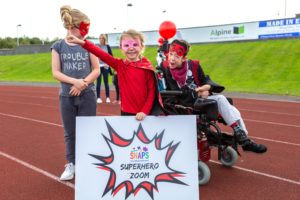 Time: 10:30am-12:30pm
Location: John Charles Centre for Sport, LS11 5DJ
Entry Fee: £5.00 per child (free for parents and carers)
We would love it if families taking part in this event could raise enough to sponsor a SNAPS session (which is just £40).
It's back! Join us for the 2020 SNAPS Superhero Zoom an inclusive 'fun run' style event giving children with additional needs the chance to feel like a superhero for the day!
Tickets are available now – each child will need a ticket, parents and carers go free.
Work for a local school? They're welcome to join in, or you could host your own Superhero Zoom!
Click here to join the Facebook event for further updates, or get in touch with jenny@snapsyorkshire.org for more information.
Skydive for SNAPS!
Date: Whenever you want!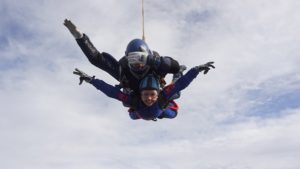 Minimum fundraising target: £350
Deposit: £50.00
Feeling brave? Go ahead and Skydive for SNAPS!
You can book onto any of the available dates at Skydive Hibaldstow for a tandem skydive. Just contact jenny@snapsyorkshire.org to discuss a date for your skydive.
You can go it alone or get a group of friends together to take the plunge!
Get a group of 20 together and you can compete to win a free Photo and Video package with your skydive!
To apply for a skydive, email jenny@snapsyorkshire.org or call 07534 972 384 to request an application form.
Got a good idea for a SNAPS fundraiser that you'd like to see in the calendar?

Contact

jenny@snapsyorkshire.org

and let's see if we can make it happen!