Sarah Cantwell has been resident Specialist Children's Physiotherapist almost since the formation of SNAPS in 2004.
Sarah came to SNAPS at the request of Sam Lambert who is one of our founder parent members. Sam met Sarah when she was assigned as her son, Dan's physio. Sarah's combination of professional skill, sunny personality and amazing handling of the children in her care prompted Sam to ask Sarah along and join SNAPS.
Sarah has seen SNAPS grow from a service providing hydrotherapy and swim lessons to providing dance classes, music therapy, Boccia and of course the regular rebound therapy sessions that were started a year ago.
Sarah loves SNAPS and everything about SNAPS, but mostly she enjoys that it is a fun, welcoming, inclusive safe place where the whole family can play together and feel supported by other families who are on a similar journey.
Sarah told me, "One of the best things about SNAPS is seeing the progress the children make when attending regular sessions; watching a child develop confidence and move themselves in the water independently for the first time or hold their head up, crawl or stand on the trampoline. It's also amazing to see children with social communication difficulties showing pleasure, giving eye contact and vocalising on the trampoline. There are so many special moments which is why I have stayed at SNAPS for so long!"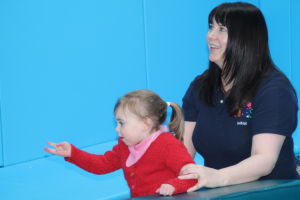 We are so glad that Sarah has been with us for such a long time and ever grateful to her for not only the work she does but the amount of joy she brings to the hundreds of children and parents who have worked with her. Thank you so much, Sarah.