If you've seen someone out running with Minnie Mouse ears or a sparkly trilby, you've probably seen Selby's Silly Hat Runner!
Calvin Summersall-Frith from Selby is well known for his stand-out head gear when out and about on training runs. Calvin had planned to take on the Yorkshire Marathon to support SNAPS and Bedfordshire and District Cerebral Palsy Society, however due to the cancellation of the event he will now be running from Selby to York Minster and back on 17th October.
Calvin told us in his own words about his challenge and why he has decided to support SNAPS.
Thank you so much to Calvin for your incredible support. To follow his progress and see his fantastic array of hats, search 'Silly Hat Runner' on Facebook, Instagram and Twitter. If you'd like to donate to Calvin's challenge, you can support him here.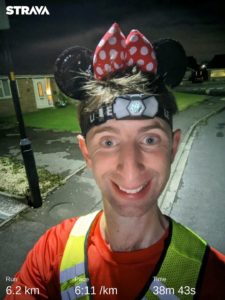 I am a husband and father living in Selby and I've been running once per week for enjoyment, stress relief, the health benefits and to raise funds for different causes for over ten years. This year, I was planning to complete the Yorkshire Marathon but unfortunately that has been cancelled. As an alternative I will be running from Selby to York Minster and back again on 17th October. This is only the second marathon distance I have attempted. The training has been a serious step up from my usual schedule, moving from 15 miles per week to over 40 miles per week.
I am the Music Teacher at a fantastic special needs school called St John's Catholic School for the Deaf. One of my big passions is supporting pupils with Cerebral Palsy and trying to dispel the false assumptions that people sometimes make about young people with very visible disabilities or with difficulties producing spoken communication.
I was looking for a local charity to support and asked some of the parents from the school which local charities have been especially supportive to their family. They had lots of different ideas but all of them said SNAPS. I hadn't realised at that time that lots of the pupils at my school have been supported by this amazing organisation. In fact, I believe every single member of my current form group still goes or has been to SNAPS weekend services.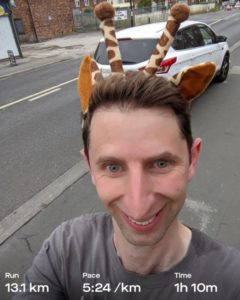 As I write this, it is 27 days until the marathon day. My training is hitting its peak week, so if I can avoid any over-use injuries this week then I'll be feeling pretty confident about the marathon day. I have been keeping my friends and family entertained with my training updates by wearing different silly hats for every training run. As a result I have become known as Selby's Silly Hat Runner and more than just my friends and family have been following my running and donating to SNAPS via Facebook, Instagram and Twitter. This has meant that with 4 weeks left to go we have already raised over £500 to share between SNAPS and Bedfordshire and District Cerebral Palsy Society!
The SNAPS team have been so supportive throughout the build up to this challenge through their Community Fundraising Manager, Jenny. She has been in regular contact and has been quick to give me information to help me with my fundraising. She was so supportive when the Yorkshire Marathon was cancelled and has helped me to make my challenge happen. Much of my fundraising has been on social media and SNAPS have been highly involved, sharing and commenting on my posts to help spread my coverage. I will certainly be raising money for them again in the future and would encourage anyone else to do the same.