We are only just over a week into July and SNAPS Superheroes have already raised £9,982.89 this month!
The first event of the month was the SNAPS Jumpathon on 3rd July, organised by staff at both SNAPS and HSBC. This involved a two-hour long, high intensity trampoline fitness class, hosted by Oxygen Freejumping Leeds. It was a tough workout but the team powered through and did an amazing job, raising an incredible £1,217.75 to support SNAPS. This amount will also be matched by HSBC!
Leanne Constantinou, Swim Instructor at SNAPS and at the helm of organising the Jumpathon, said: "The Jumpathon was a great way to raise money for a cause so close to my heart whilst also having a lot of fun! We wanted to try something a little different but also challenging in order to support SNAPS, and with many of the families we see benefiting from rebound therapy, we saw jumping as a fitting choice. I can't express enough gratitude to Oxygen, Danielle, the class instructor, and all those that took part in the night to make it such a successful event! Who knows, maybe we will do the same again next year and you can all join us!"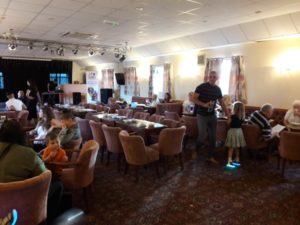 This was quickly followed by the Barnbow Social Club Charity Fun Night on 5th July. Parent Trustee Lora Bedford and her family led the organisation of this and planned a fun night filled with fundraising, including a raffle, quiz, bingo and cake stall. Over 40 people attended the evening and helped Lora and her family to raise a whopping £859.25 in just one night, part of which will be matched by Lloyds Bank.
Lora said: "SNAPS means so much to us as a family and we wanted to do something to raise some money and give a little bit back to SNAPS. We were blown away by how supportive and generous everyone was beforehand with raffle donations and on the night and we can't thank everyone enough!  We had a really good evening with everyone and we are looking forward to planning more fundraisers in the future."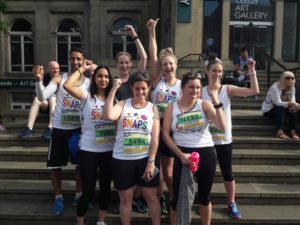 The SNAPS Superheroes were on a roll now and the week of fundraising concluded with a team of runners taking on the Leeds 10K. The 10-strong team was made up of SNAPS staff, parents, friends and employees from our corporate partner Irwin Mitchell. It was a warm day but all of our runners conquered the 10K and have raised £5,463.61 to date.
Eve Holdsworth, Community Fundraising Manager for SNAPS and part of the Leeds 10K team, said: "I was very nervous as this is the first event I've done since having my son two years ago. But when the day came the atmosphere was brilliant, the route was flat, and running with the other SNAPS runners was such fun! I am so pleased with my achievement and the money I've been able to raise for SNAPS – I'll definitely do it again next year!"
To top all of this off, we also recently received the news that the University of Leeds Staff Festival raised an incredible £2,442.28 for SNAPS, the second highest amount ever raised from the event. We were nominated to be the charity for this year's festival by parent Lucie Middlemiss and we were delighted to be a part of such a fantastic day.
Jo Westerman, LOGIK Centre Manager at University of Leeds and Festival project manager, said: "We wish to thank all colleagues who attended the Staff Festival and donated generously to help us raise the second highest amount for SNAPS, our chosen charity for 2019."
You can read more about the festival here.
Jenny Sellers, Community Fundraising Manager for SNAPS, said: "I am so impressed with the amount raised already in July by our SNAPS Superheroes. It's a real testament to the dedication and hard work they have all put into supporting SNAPS.
I was privileged to be a part of each one of these events, from enjoying the sunshine at the staff festival, to helping out Barnbow, to sweating it out on trampolines and at Leeds 10K! Thank you to everyone for inviting me to be a part of your fantastic fundraising activities."
Want to become a SNAPS Superhero this July? Find out how you can support us here.