On Saturday 30th November we launched a new award for children with additional needs and their siblings!
We created the SNAPS Superkids Awards to recognise and celebrate the bravery, determination and positivity of the children, and their families, who access our services.
SNAPS Chief Executive Lucy Owen explains the reason for the awards: "Often our families are told about all the things that their child won't be able to do. At SNAPS we celebrate all the things that they CAN do. We frequently find that with our support, children can achieve life changing milestones that other health professionals told them wouldn't be possible such as walking unaided.
"Our kids are brilliant, and so we are launching the SNAPS Superkids Awards to recognise this."
Nominations were also open to siblings so that the support a child may receive from their brother or sister could also be recognised.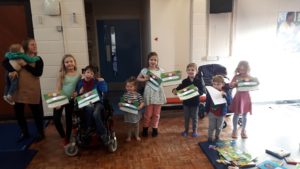 Every child nominated was presented with a certificate and small keepsake to mark their achievement.
Lucy continued: "The awards will now be an annual event as celebrating how proud the children are of their amazing achievements is what SNAPS is all about."