We have some SNAPS news to share.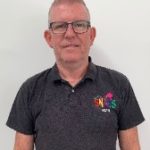 Dean Sanderson, Penny Field Site Manager has decided it is time for him to leave SNAPS.  As most of you will know, Dean has been in his role at SNAPS' Penny Field site for 6 years.  During that time, he has welcomed and helped hundreds of families whilst supporting his volunteer and staff team to develop and achieve their own goals.  He has also done a great deal to help SNAPS adapt and grow with his IT know how and many contacts across the region.
Dean has been the smiling face of Penny Field and anyone who has been through Penny Field's front doors will know how much he will be missed.  We are all sad to see him leave but wish him every success going forwards.
Jo Milburn (currently Broomfield Site Manager) will now be managing both sites (Penny Field and Broomfield) and will be in touch with all families over the coming weeks as we finalise our plans for re-opening.  In the meantime, if you have any questions, please just ask lucy@snapsyorkshire.org or jo@snapsyorkshire.org
Best wishes
Lucy Owen
Chief Executive