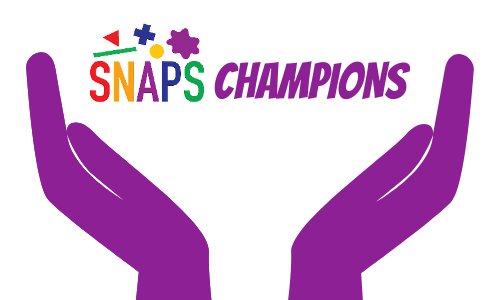 Become a SNAPS Champion by giving a regular gift to help make the 'impossible', possible for children with additional needs.
Click through the buttons below to learn more
It's a simple way to make a difference that suits your budget.
Your support will help us plan for the future and ensure we can be there for families who need our support.
You'll receive a welcome pack and regular updates about how your support helps children with additional needs and their families.
"This service is a place where you can go and talk to other parents going through similar situations…SNAPS is a place where you can talk about stuff, cry about it and get reassurance you are doing your best without fear of judgement."
£2 a month provides refreshments to give parents a chance to relax and speak to people who understand their situation over a hot cuppa.
£3 a month across a year will help provide one physiotherapy session for a child with additional needs to help them achieve a vital milestone like walking unaided.
£5 a month could provide music therapy to SNAPS children who find they can express themselves more easily through music.
£10 a month helps us provide arts and crafts materials at a session to give the children fun ways to play with their siblings and family.
Please note these are examples.
It's simple to become a SNAPS Champion and support families who need a little bit of extra help. You can set up your regular donation using the following methods:
Donorbox – You can use Donorbox to set up a regular donation using PayPal.
Virgin Money Giving – Another simple way to support us.
Bank Transfer or Cheque – If you would like further information about making a monthly donation using these methods, please get in touch.