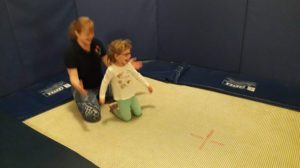 Just £40 helps us to provide vital hydrotherapy and rebound therapy (trampolining) sessions to aid a child's physical development and build their confidence.
Physiotherapy helps children with additional needs to achieve milestones such as sitting and standing unaided, crawling and walking. Our support helps make the 'impossible', possible for children with additional needs.
If you sponsor a session, we'll send you a high vis SNAP band to say thank you!