Joining SNAPS offers an amazing opportunity to enhance your career within a welcoming, supportive and fun environment. SNAPS' encourages our staff and volunteers to bring their own personality and sparkle to us whilst we provide a professional team to work with and an opportunity to make a difference in the lives of children with additional needs. Our employees can also access discount codes to many high street shops and help to reach your own personal goals. 
Current Paid Vacancies  
SNAPS Support Worker 
Closing date for applications 15th August 2023
Please note we do not accept CV'S and applicants must complete the SNAPS Application Form.
Thinking about joining our team and want to know more? Read the below to find out what our staff think about working at SNAPS or alternately please email one of our friendly team to talk through the current roles we have available. 
Current volunteering opportunities
Looking for a new challenge and to expand your knowledge and skill set? Why not join our fabulous volunteer team? 
We have lots of exciting volunteer opportunities please email Jo@snapsyorkshire.org to find out more.
For other ways to volunteer with SNAPS, visit our volunteer pages.
Lets hear from Becky, our assistant manager at Penny Field on her experience of working for SNAPS.
"The SNAPS team are supportive both professionally and personally. Everyone is so friendly and welcoming when you first start, whether that be as a volunteer or an employee and over time, you build relationships with the whole team. The team make it known that they are there for you if you feel you ever need to discuss any problems you are having, at work or in personal life. As an employee/volunteer of SNAPS, you are looked after. 
What I enjoy the most about working for SNAPS is the progression of the children who attend SNAPS – physical development and social development. Sometimes, it can take a while for them to warm to you and engage in the activities (stay and play, scheduled sessions with the physiotherapy). As time goes on, you build relationships with the children and you'll notice that their personalities start to come out – it's a very satisfying feeling to know that you have gained their trust and that they'll tend to interact with you every week. Physically, the smallest of things can be such a big win and watching children reach their goals in their physiotherapy led sessions is something you speak to the other team members about because you are proud to have been a part of it. 
SNAPS has been one of my favourite places to work. You take pride in the work you do for the children and their families and it's an extremely satisfying job."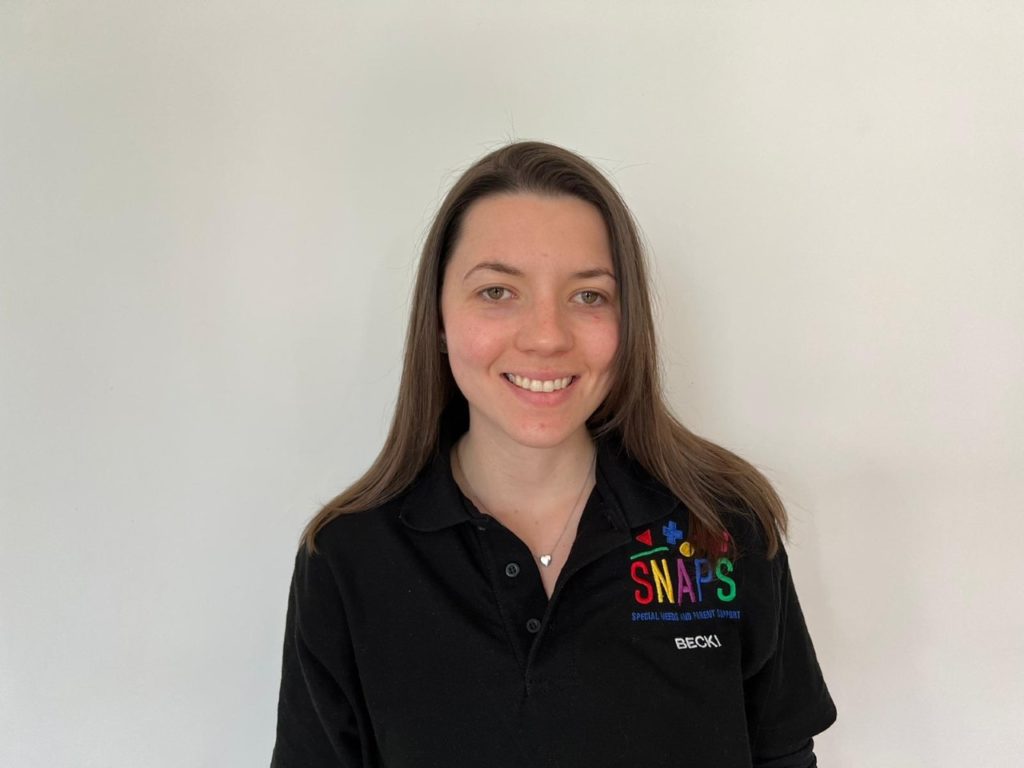 "When I first started working with snaps I was really quiet and didn't really think I would fit in but the brought me out of my shell and just helped me be more confident. I enjoy getting to work with the staff and getting to see all he family's and new family's too and helping were I can"
"One of my most memorable experiences at SNAPS so far is having the opportunity to see children reach their Rebound therapy goals. I love getting to know each family on a individual basis and supporting children to reach their goals within sessions. I love watching children progress throughout the term and enjoy learning new songs, blowing bubbles and playing games within sessions."