SNAPS' Business Heroes offers local businesses an opportunity to give back to the communities in which they are based and is an ideal way to show that they stand for more than just profit.
By joining SNAPS' Business Heroes and committing to a minimum donation of £200 a year to SNAPS, you are supporting local children with additional needs and their families when they need it most.
Thank you to the incredible community of Business Heroes, supporting our work. Without the continued, sustainable support of these committed companies, SNAPS simply could not achieve our strategic aims to expand our services and support even more children and families.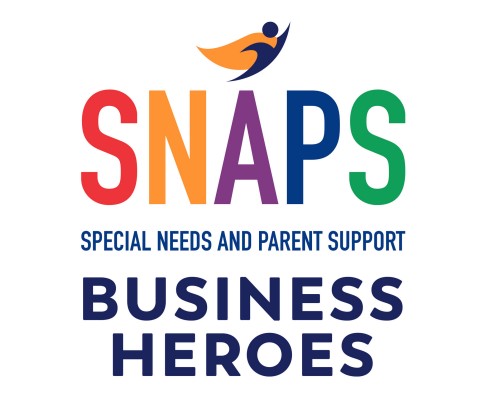 The businesses helping us to make a real difference as part of our Business Heroes…
Irwin Mitchell have supported the valuable work of SNAPS and SNAPS families for over 10 years. Ross McWilliams and Victoria Harris are proud to be SNAPS trustees and regularly volunteer to deliver boccia to the children both at Broomfield and Pennyfield. We're proud to be a longstanding supporter, and we're here to provide legal and financial support to help you and your family. Through our legal work, we understand that if your child lives with a disability or has suffered from a serious injury or illness, the emotional and physical impact can be life changing. We can help you access the best medical care, rehabilitation, and support.
Our expert legal and financial teams can offer guidance and advice on a wide range of areas including medical negligence, education and health care plans, deputyships and trusts, family law, welfare benefits, and future planning including financial assessments.
Our specialist medical negligence solicitors support families with a wide variety of claim types related to childbirth, including cerebral palsy, Erb's palsy, Klumpke's palsy, intrauterine growth restriction, placenta previa, hypoglycaemia of the newborn, pre-eclampsia, hypotension, placental abruption, and wrongful birth (failed sterilisation).
Fletchers is one of the leading medical negligence practices in the country, meaning your case will be handled by experienced solicitors in this complex area. We believe that everybody who has suffered from medical negligence deserves justice, which is why we act on a no win, no fee basis.
Our mission is to help rebuild the lives of people who have suffered serious, life changing injuries, through our work with injured clients, and by supporting charities, causes and organisations that share our mission.
Established in 1987, our award-winning Serious Injury Team specialise in catastrophic injury, with expertise in spinal injury, amputation, birth injury and brain injury. We also have one of the most enduring and well-respected bike accident teams in the industry, representing vulnerable road users and helping them obtain the compensation they need on their road to recovery.
Fowler & Powell – Award Winning North Leeds Estate Agent:
Connecting North Leeds through characterful homes and a community feel.
At Fowler & Powell we pride ourselves on being an independent estate agent, serving the vibrant community of North Leeds and beyond. As experts in the local market, we offer a unique approach to buying and selling homes, focusing on our bespoke touches for all our clients, and specialising in properties that exude character and charm.
With a deep appreciation for architectural authenticity, we understand that a home is not just a building but an expression of its history and the people who have lived within its walls.
Our team is passionate about showcasing these distinctive properties, ensuring that each one is presented in all its unique glory. From Victorian townhouses to traditional cottages, we curate a portfolio of homes that stand out from the crowd.
However, our commitment to the community doesn't end with property sales.
We believe in fostering connections and creating a sense of belonging among our clients and neighbours. That's why we take pride in organising exciting and engaging events that bring people together. From neighbourhood gatherings in bars, hosting garden parties to networking opportunities for local businesses, we strive to create a thriving and interconnected community.
Whether you're looking to buy your dream home, sell a property full of character, or simply connect with like-minded individuals in the community, Fowler & Powell is here to make it happen.
Trust us to bring your vision to life and make your property journey a memorable one.
We've been a familiar sight in our local communities for many years now. With our sold boards visible on many streets of the areas which we call home.
Over years of helping people move, we've forged lasting relationships with members of the local communities we serve. Our work acts as a constant reminder of how much the local area means to the people that we help and in turn, our teams.
This is why we aim to contribute as much as we can to support local groups, schools and community organisations.
At Manning Stainton, we are proud of what we do and the way we do it. To achieve this we all share the same values. Our mission is to help people move by providing a service from a team of passionate, dedicated professionals who aim to consistently exceed our customers' expectations.
Manning Stainton have successfully been helping people move for over 20 years. Operating from 19 prominent sales and lettings branches, together with Fine & Country and 5 specialist departments, Mortgages, Conveyancing, New Homes, Auction and Surveys, all ready to help our customers move.
Three days of the best in music, comedy, theatre, science and sport for the whole family, set in beautiful North Yorkshire parkland, Deer Shed is an innovator of a family-friendly format that doesn't forgo exciting and contemporary musical and cultural curation – an event carefully designed to be a brilliant experience for all ages. A festival for all families, friends and fans.
We combine multiple sources of data from across your business to reveal the bigger picture. This enables teams to gain valuable insights from the emerging patterns and make better-informed decisions.
By automating processes, we also reduce your workload and speed up reporting – allowing teams to react to changing circumstances in real time. We offer ongoing support to ensure our solutions don't get in the way of your productivity.