Staff
SNAPS employs a number of dedicated and experienced people to help deliver its services – a Manager, and a small team of support staff, paediatric physiotherapists, swimming, dance and other instructors, and other professionals.
Administration Team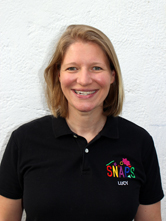 Lucy Owen – Chief Executive
I joined SNAPS in October 2016 having worked in the charity sector for 13 years for organisations such as ChildLine, Leeds Mencap, Leeds Rugby Foundation, Left Bank Leeds and Leeds Community Foundation. I am passionate about delivering excellent services that support children with additional needs and their families. SNAPS does just that and I love working at an organisation which delivers such vital services that families need and deserve.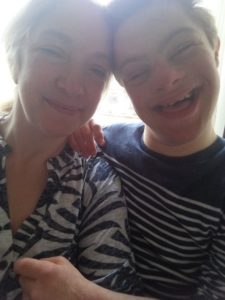 Sam Lambert – Trust and Grant Fundraising Manager
I have worked as a Fundraiser for over 10 years and now specialise in Trusts and Grant Fundraising.  As the Mother of a profoundly disabled child I know first hand the importance of SNAPS.  I know how important friendship is to lift families and how important, rare and invaluable accessible play opportunities are.  I was privileged to be one of the 6 founding families of SNAPS and I am very proud of the difference we have made to so many over the years.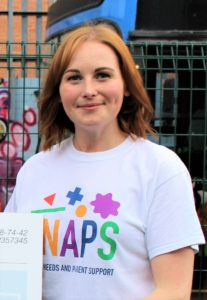 Jenny Sellers – Community Fundraising Manager
I joined SNAPS in July 2018 after previously working with the Jane Tomlinson Appeal – before that, I worked for Luv2meetU, a friendship and dating agency for people with learning disabilities. My experience has given me a real appreciation for the work services like SNAPS do to support those with additional needs and I was instantly impressed by the hydrotherapy and rebound therapy sessions! My job involves working in the community to raise funds to continue this much needed service and to share the message of SNAPS within the Leeds community. I'm also here to support people taking on a challenge or organising an event to fundraise for us, so if you're looking to do something like this, get in touch!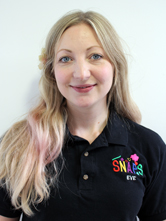 Alex Firth – Finance Manager
Penny Field Team
Dean Sanderson – Manager
My name is Dean and I am the site manager for our Penny Field site in Meanwood. I was first involved with SNAPS some 13 years ago as a parent attending with a child with significant additional needs. Following the loss of our child I maintained a relationship with the charity having made many friends and also in a fundraising capacity. The relationship took a turn when I was asked to become more involved following a restructure of the charity and here I am 5 years later loving working with some amazing families, children and staff delivering much needed services to children in Leeds and the surrounds.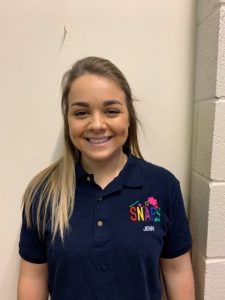 Jenn Evans – Assistant Manager
I am originally from Canada and I am currently completing my Masters Degree in Physiotherapy at Leeds Beckett University. I started volunteering with SNAPS in March 2018 and immediately fell in love with the charity, the children, and the families. I am so grateful to now have the opportunity to work as the assistant manager at the Pennyfield site. Every Saturday I look forward to working alongside an phenomenal team while supporting incredible children and families; all of whom have taught me more than I could have ever imagined. I am a stronger believer that you will never change the world by trying to be like it, and I love that SNAPS not only accepts, but celebrates the differences in everyone.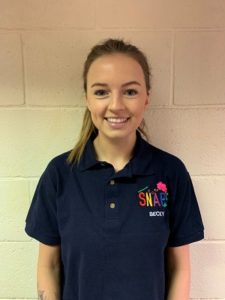 Becky Lackie – Support Worker
I'm a support worker at SNAPS, based at the Pennyfield site, as well as undertaking an MSc Physiotherapy degree at Leeds Beckett University. I instantly fell in love with SNAPS when I experienced how passionate and committed the team were to whole families of children with additional needs. I saw how important it was for children and their siblings to have a free space to be themselves, meet new friends and have fun. I also recognised that it is just as important for parents and relatives to have a place to sit down, have a cuppa, and meet other families in their shoes, as well as joining in on the fun of course. As an aspiring physio, it feels amazing to be part of such an incredible team and I feel honoured every Saturday to have the privilege of working for SNAPS.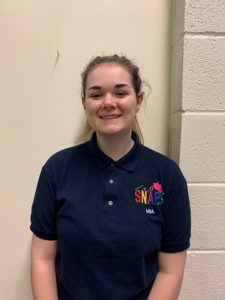 Mia Donaghy – Support Worker
I am a first year BSc student at Leeds Beckett University studying physiotherapy. I love being a support worker at SNAPS as it has had such a positive impact on my own family and I want to support other families going through similar things. SNAPS helped my sister, who has Rubinstein-Taybi syndrome, find her love for dance and swimming when she was younger and allowed my parents to talk and console to other parents with children with disabilities.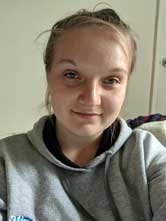 Leanne Constantinou – Swimming Instructor
I'm Leanne and I'm a swim instructor at Swimbrite swimming school. I have been teaching swimming for almost 2 years and did all my training with Swimbrite. It was there that I found my passion to work with children with additional needs and was lucky enough to be offered the opportunity to work with the children at snaps. Alongside swimming, I work in a school offering support to children with autism to access mainstream education. I am also a graduate of MSc Health and Wellbeing. I adore the work I do with the kids at snaps, who never cease to amaze me with the barriers that they can overcome. My main aims in most of my work at snaps is to ensure the children have some understanding of water safety, they have a positive relationship with water and they have fun in their lessons!
Physiotherapists
Sarah Cantwell
Dawn Walton
Becky Brooks
Georgina Thornton-Frankland
Lauren Haworth
Laura Collins
Anne Colleran-Welsh
Broomfield Team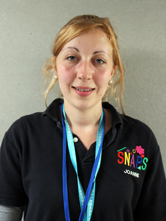 Jo Milburn – Manager
I first started working for SNAPS when the Broomfield site opened and enjoyed working as a support worker and seeing the positive impact we have on families at SNAPS. I'm grateful I now have the opportunity to work as the Broomfield site manager and to work alongside many different people. Its great to see so many people attending our sessions and meeting new faces as well as building up relationships with the families and watching friendships develop.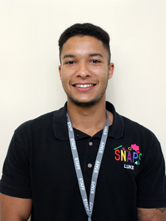 Luke Bailey – Assistant Manager
I have worked at SNAPS since 2018. I have several years of experience in multiple schools teaching and helping pupils progress. I love seeing kids building relationships with staff and other pupils.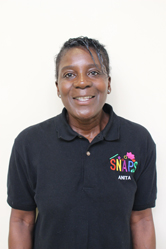 Anita Tonkinson – Support Worker
I have been working with SNAPS since the Broomfield site opened. I enjoy working at Broomfield as it's a good atmosphere and the staff and families are all wonderful. I have made many friendships since working at Broomfield.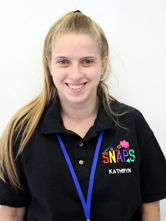 Kathryn Collinson – Support Worker
I am currently studying my level 3 child care at the moment and I absolutely love every minute of it. The minute I got offered the job to work with SNAPS I was over the moon because I enjoy working with and helping children and their families. I love getting to know all the individual families.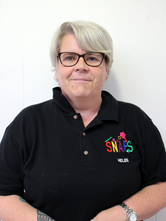 Helen McGlashan – Support Worker
I have worked with children and young people in a variety of settings from a boarding school in Hertfordshire to Looked After children in Leeds. I have lived in Toronto, Canada for 12 years working as a nanny mainly with children with additional needs. I currently work as a 1:1 teaching assistant in a mainstream primary school setting.
At the present time I am a part time student at University of Leeds studying Learning and Teaching (SEND).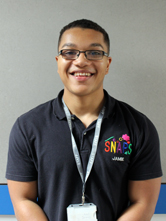 Jamie Tonkinson – Support Worker
I enjoy working for SNAPS and meeting all the new families. I like working in Rebound but also seeing the children enjoying the activities in the hall. I enjoy working at Broomfield and enjoy the atmosphere at Broomfield.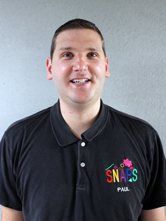 Paul Wade – Support Worker
I have been with SNAPS since the Broomfield site first opened. I enjoy working for SNAPS because it provides support for children with special needs, parents and siblings. Since working here I have seen many friendship made between the children as well as helping parents find a place where they can discuss any issues they are facing with other parents. I have also enjoyed seeing each week how Rebound helps the children.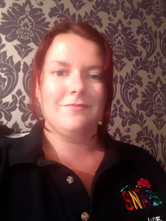 Jade Lammin – Support Worker
I have 2 children, one who has had a diagnosis of autism. I am 27 and before working for SNAPS I was a parent who attended SNAPS. I enjoy working for SNAPS because I like to help people and be there if they need someone to talk to. That's what SNAPS does – they support, listen and help.
Physiotherapists
Laura Collins
Dawn Walton
Becky Broks
Volunteers
We are fortunate to have the services of a number of volunteers, from various backgrounds, whether A-Level students, undergraduates studying physiotherapy, childhood studies, or language development, and others. We value their contribution and are able to offer a programme of training to both enhance their time with us and build skills and experience for their CV's and futures.
Trustees
Equally important is the team of people who have generously offered their time and experience to work as Trustees on the Board for SNAPS. The current Board is:
Chris Eatwell (Chair)
Ross McWilliams (Vice Chair)
Paul Rowson (Vice Chair)
Howard Pickles (Treasurer)
Becky Wilson
Debbie Hingerton
Kathy Louca
Lora Bedford
Nicola McVennon
Simon Featherstone
Victoria Moss
How can I help?
To start with, come along to a Saturday session, and see what a SNAPS session looks like, and meet some of the team and our wonderful families. You could volunteer to help out with our sessions, or support us behind the scenes by becoming a Trustee, or providing some other direct support. You can also fundraise for us – we are always open to new ideas!