This page is dedicated to our SNAPS Superheroes, the people who do fantastic things to support us and help make the 'impossible', possible for children with additional needs!
A huge thank you to Louise, Ava (above), Nicola and Joe for raising £383.56 through collection tins at Nicola and Joe's engagement party and at Dawson Clark Salon! This was in addition to an online raffle they did in 2020.
"Ava, our beautiful grand daughter, attended SNAPS before lockdown and we were overwhelmed with support from the SNAPS 'family'…We have a fantastic team of solicitors working on Ava's behalf all thanks to SNAPS, not to mention the wonderful rebound therapy and play for Ava.
"We hope what we raised will make a small difference to everyone who attends this wonderful service." – Louise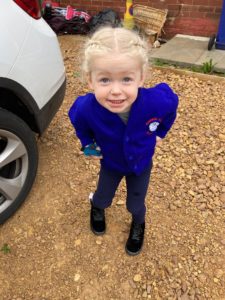 A very big thank you to The Denton Charitable Trust for supporting SNAPS with a generous donation.
Thank you so much to the Gay and Peter Hartley's Hillards Charitable Trust for their kind donation to support our work.