500,000 steps in a month sounds a big challenge for some, but one that Mark is taking head on!
Mark Bramfitt has pledged to walk 500,000 steps during the month of July to help fundraise for SNAPS.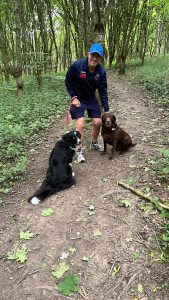 Last year Marks charity was Little Hiccups who gave his grandson Jack much needed support, as Jack has been diagnosed with epilepsy and cerebral palsy due to complications soon after birth.
SNAPS was Marks charity of choice this time as Jack attends at Penny Fields school for hydrotherapy, which is where the family learnt about SNAPS and the work we do to help children with additional needs and their families.
Earlier this year in January, Mark underwent a full knee replacement and decided that walking 500,000 steps in a single month would be challenging but would also aid his own recovery.
Mark is the Develop Manager/Coach for North East Leeds Juniors Football Club and works with children from reception up until year 2. He is passionate about football and loves working with kids to instil not only football skills but the importance of teamwork and sportsmanship which he believes are transferable skills to other areas of the children's lives.
We would like to thank Mark for his amazing fundraising efforts and wish him the best of luck as he completes his 500,000 steps in July!