Families
Meet The Families
News
The Families
Florence's Swimming Journey at SNAPS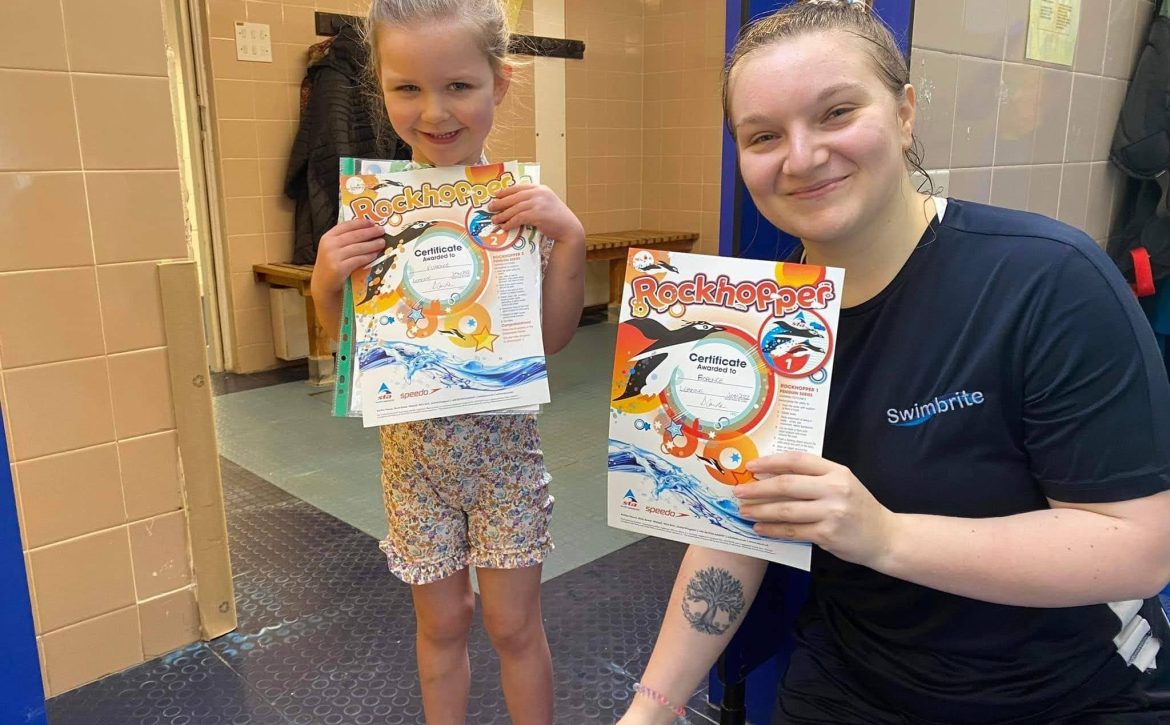 SNAPS and Leanne have been extremely lucky to be finalists in this years aquatic excellence awards with the STA, in the categories for 'not for profit organization of the year' and 'swimming teacher of the year'. To even be considered for this is such a privilege, to be given the opportunity to put the name of this charity, which Leanne adores so much, on such an important platform is truly remarkable. With this said, it has offered Leanne an opportunity to reflect on how she ended up in this position and what it is that she does at SNAPS that makes us worthy to be named. There are a whole host of reasons why SNAPS deserve to be involved in any and every excellence award there is. Leanne has shared her experience of one of our fantastic swimmers, to showcase so clearly why swimming at SNAPS is so important!
Leanne said "Florence took my hand and led me on her swimming journey in September 2021. One year prior, she had survived a very rare pediatric stroke and was adapting to a completely new way of life. The moment I saw her medical history alongside her age, I was in shock. How could someone so small survive something so big?! Then I met Florence and it all made sense. She is bold, brave, courageous, and resilient. She had no boundaries, her world in the water was limitless. This might be another day at work for me, but for Florence it was a world in which she could thrive, be the best and try her hand at just about anything. It was a safe space. Walking in that door each week with a smile on her face and a 'can do' attitude, she quickly progressed through the Rockhopper badges. She of course went beyond the badge skills though, and learned how to forward roll, surface dive and complete a kneeling dive – skills ordinarily reserved for swimmers who can swim all 4 strokes!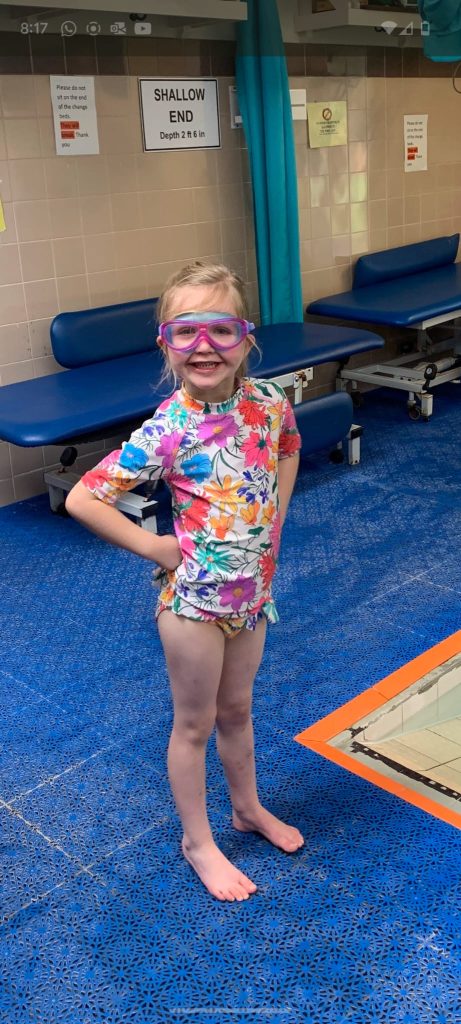 She was always one step ahead of me, so Florence had her first attempt at mainstream swimming which unfortunately, due to poor practice, led to a huge knock to her confidence. This was through absolutely no fault of her own, and when she returned to me at SNAPS you would have thought nothing of it, as she got straight in and straight to work without hesitation. The resilience will forever amaze me. Florence was enjoying her time in the water and once again, achieving badges faster than ever expected! 
Take 2… Lets try this again. It was time to meet Ethan at Swimbrite. Florence was understandably very anxious about trying mainstream lessons again, so her family were able to arrange a 1.1 with Ethan to help her settle. I went along with her, and Ethan gave us both a lesson! Florence and Ethan clicked immediately, he took the time to get to know her and her confidence flourished once again. Ethan explains:  
"When Florence first came with me it was in a 1-1 lesson with Leanne present in the water. With it being the first time teaching Florence I was unsure what to expect. As soon as she climbed in she had the biggest smile on her face and was so confident in the water which was amazing to see. Half way through, Leanne was able to step out as Florence was growing in confidence, which was amazing! Following this, Florence joined one of my group lessons with 5 other children, all around the same ability as her. The first week, she had all of her swimming aids: armbands and pool noodle. I was unsure how Florence would compare to the other swimmers, as they had all been in lessons with me the previous term. Only 3 weeks in however, I was very happy to see that she was one of the strongest swimmers in the class. She has made such huge progress in such a small space of time and is now swimming independently without armbands or floats. She is amongst the strongest swimmers in the group, and I really enjoy teaching Florence. It is amazing to see how much she has progressed in such a small space of time!".
So, Florence entered the SNAPS pool for the first time in September 2021. By September 2023, she is swimming in a mainstream group lesson with 5 others and is swimming unaided (with a beautiful stroke I might add!). She has overcome more than any child at her age should have to, and her bravery and resilience is a testament to her character and her amazing family. SNAPS gave her the best start to her swimming journey, giving her time to build strength in her left side and allowing her to keep up with her peers. She however, brought to SNAPS a whole lot of bravery, strength and resilience of her own. She also took away all of our hearts as she walked out the door!"